High School Orchestra Clinician
2022-23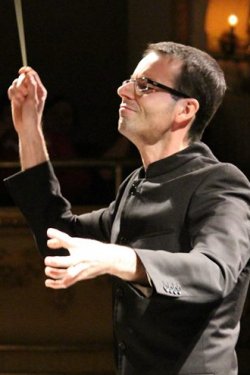 Thomas Dickey
Second Prize Winner of the 2019 Mozart & Tchaikovsky International Conducting Competition, Dr. Thomas Dickey has been reviewed by critics as a "dynamic and exciting conductor" whose conducting is "imbued with aplomb, energy, and pathos." As the Director of Orchestral Studies at Oklahoma State University, he conducts the OSU Symphony Orchestra and guides the orchestra and graduate orchestral conducting programs. He concurrently serves as Music Director & Conductor of the OSU Youth Orchestra and Community Orchestras. Prior to his appointments in Oklahoma, he was the Director of Orchestral Activities at the University of Wisconsin-Platteville and Music Director & Conductor of the Dubuque Symphony Youth Orchestra (IA).

Dr. Dickey has conducted many professional orchestras throughout North America, Europe, and Asia, including the Bucharest Symphony and Bacau Philharmonic Orchestras in Romania; Belgrade Chamber Orchestra in Serbia; Lyatoshinsky Symphony Orchestra in Ukraine; Shenyang Symphony in China; the North Czech and Moravian Philharmonic Orchestras in the Czech Republic; the Atlantic Coast Orchestra in Portugal; London Classical Soloists in England; and the Winnipeg Symphony Orchestra in Canada, in addition to the Bakersfield, Macon, Missouri, Norwalk, Rapides, Springfield, and Tulsa Symphonies; the Saratoga Orchestra of Whidbey Island; the Smoky Mountain Chamber Orchestra; Naples Philharmonic; Rose City Chamber Orchestra; and the Chicago Reading Orchestra. He has also worked with numerous all-state, honors, and university orchestras in Arkansas, Colorado, Florida, Georgia, Illinois, Indiana, Iowa, Kansas, Louisiana, Michigan, Missouri, Nebraska, New York, North Dakota, Ohio, Oklahoma, Oregon, Pennsylvania, South Carolina, South Dakota, Tennessee, Texas, Virginia, Washington, Wisconsin, and Wyoming.

A native of Illinois, Dr. Dickey holds degrees from Eastern Illinois University, LSU, and the University of Georgia. He has worked with conductors such as Carl Topilow, Christopher Zimmerman, Daniel Lewis, Gustav Meier, and Diane Wittry, and further studied conducting in numerous workshops and master classes at the Prague Academy of Performing Arts, Cleveland Institute of Music, and Cincinnati Conservatory of Music, among others.