Middle School Choir
2021-22
This event is cancelled due to an increase in school closings in our area. There will not be a make-up date.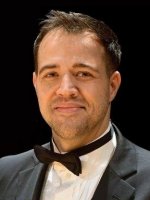 2021-22 Clinician
Brandon Wade
Pratt HS
Important Dates
Nov. 14 - Nomination Deadline
Jan. 15 - Clinic & Concert @ Chanute HS -
$5 participation fee per selected student
Admission: $4 - Adults; $1 - K12 Students
Nominations
Nominations must be entered online in the
KMEA Members
site. Any student grades 7-8 from the Southeast District that is enrolled in a choir class is eligible. Teachers may nominate 8 choral students from their school: 2 Soprano, 2 Alto, 2 Tenor and 2 Bass. Teachers may also nominate alternates for any voice part. There is no guarantee the alternates will have a place in the choir. All nominations must be completed online by the posted deadline.
Fees
Use the
SEKMEA Invoice Generator
to create your fee invoices. An invoice print-out must be included with each payment. Make checks payable to
Southeast KMEA
.
Dress
Students may wear school clothing for rehearsals. Facilities will be available to change before the concert. All clothing must follow your schools dress code. Concert Dress is as follows:
Ladies: Dresses/Skirts/Slacks and nice shirt (no jeans, t-shirts or tennis shoes)
Men: Slacks and Dress Shirt, tie is optional (no jeans, t-shirts or tennis shoes)
Lunch
Items may be purchased for lunch at a concession stand or students may bring a sack lunch.
Student Checklist
Music marked with the school name so it can be returned if misplaced.
Original music only in a black three-ringed binder.
Pencil for marking the music.
Money for lunch or a sack lunch. (Please encourage students to bring smaller bills to purchase their lunch.)
Water in a closeable container. (No pop is allowed in the music room or gyms.)
Concert attire.
A positive attitude and desire to have a great day making music with others!
Performance Repertoire
Bonse Aba
Victor C. Johnson
SAB/Three Part Mixed

Something Told the Wild Geese
Sherri Porterfield
SAB/3 Part Mixed

We Won't Stop Dreaming
Pinkzebra
SATB

The Dream Keeper
Rollo Dilworth
SATB

O occhi manza mia
Orlando di Lasso
arr. Robinson
SAB
[We will take this much faster.]
All titles are available from Senseney.
Rehearsal and Performance Schedule
8:30 AM — Registration
9:00 -10:15 — Rehearse
10:15-10:30 — Break
10:30 -11:40 — Rehearse
11:40-12:20 — Lunch
12:20-2:40 — Rehearse
2:40-3:00 — Change Clothes - Go back to wait for concert - leave belongings in designated area.
Following the concert, wait on the stage to be picked up by parents.